My Collector Shares his Thoughts and Impressions
Nov 15, 2020
In December of 2019 I was doing admin and noticed that a few of my collectors were not on email list, So I reached out to them and asked how they were and if I could add them.
The other day I received this beautiful response from Colin, my collector who has Gaia in Blue.
The pandemic got him cleaning out his email and came across mine from back in December of 2019.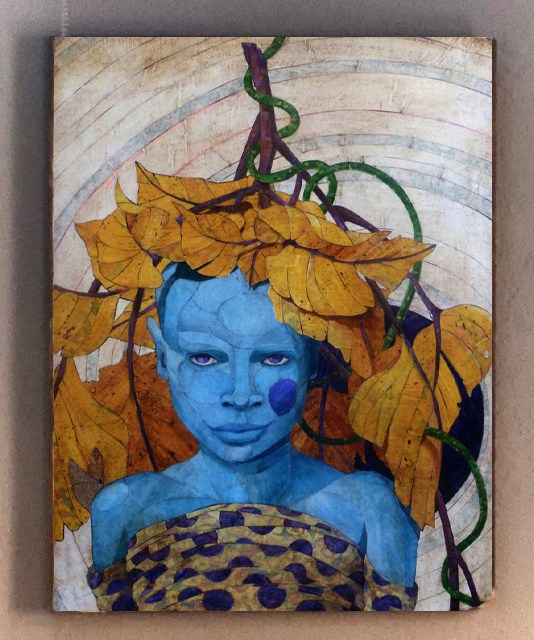 Here is what he shared:
"Hi there! My name is Colin Kim - I DJd the event at Barnsdale Park, where I was so fortunate to acquire 'Gaia in Blue'. . .
I've lived in the same studio apartment in West Hollywood, for some 18 years. I like to keep my space very minimal - when I saw Gaia, I had to have her… I'm not usually so intent on collecting or feeling a piece of art so clearly. But it happened powerfully like that for me; that beautiful Saturday afternoon! I was working the event, so to step away from the turntables and bid above other guests - was something I remember.
Perhaps because I'm a yoga and fitness instructor, this piece spoke to the profound meditation our dear planet is, in all it's life giving and destructive glory... - I really enjoy from the piece, what I perceive to be the dangerous coy smile of Gaia. It's not a threatening smile, but just enough outward expression to say SHARPLY: "Let's be clear. It is I. I give and I take away…"
I've had wonderful and painful extremes in my life - and what I felt was the statement of this piece, continues to inspire me to be a student of interactions with people and events in life; the ones that bring laughter and also, the unfolding of time - meaning that pain experienced, so too, shall pass. She's a meditation on preemptive/mandatory respect, but a total dissolve into the ecstasy of the moment, if we can relax enough to witness the beauty of life as it unfolds, simply and infinitely. Volcanic power in the beauty of a home garden. My cat Oatmeal sits on the couch regularly, under her gaze from my doorless closet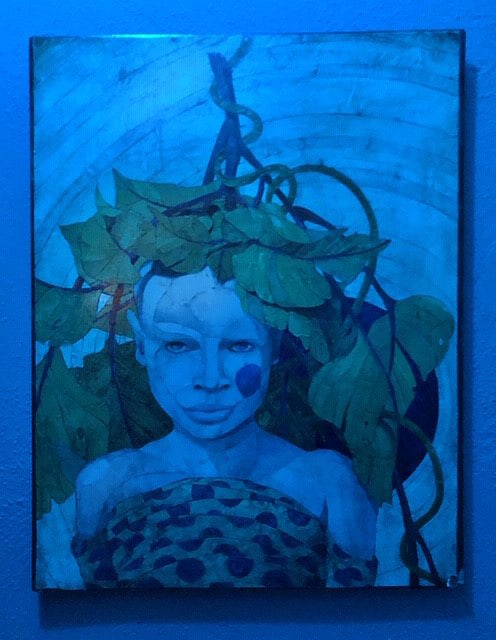 Shortly after hanging the piece, I had the idea to add the blue light - Houseguests often ask about it intentionally or don't see it at all. My bed lies in an alcove across from the painting - from time to time, for years now - it's the last light I turn off before bed and the gaze makes me feel protected and relaxed in the meditation of it.
Thank you so much! I'm looking forward to learning more about your current pieces and who knows - maybe a commission one day!! My very Best Colin, www.ck2you.com
I share this because you are so important! This meant the world to me. Art is not meaningful for me if it is not shared.
Thank you for your interest in my work!
Be Well my friend!