The Watcher, How My Grandma's Painting Helped Me Through Difficult Times
May 21, 2020
The morning that my mother passed away my family and I came home to my house and the porch was filled with boxes. There were so many that we could not get into the house.
My sister says- "Oh ya!, Uncle Jeff is sending you all of grandma's artwork".
I remember her telling me this a couple of months ago but how were we to know that it would arrive on this day of all days and that there was a painting in there that would support me grieving the loss of my mom.
We started opening the boxes that were filled with all my grandma's paintings and each new box was like opening a present. I was eager to find one to keep so I could honor my grandma.
She was a hobby painter and did lots of flowers in vases and landscapes in various sizes from small to rather large. Most of them were framed with a 1970s style gold frame.
During my Mom's illness I was searching for spiritual support and reading the Power of Now by Eckhart Tolle and the Untethered Soul by Michael Singer among other books. The concept that really stood out to me was that I am not my mind, I am the observer of my mind and thoughts. My mind is a tool that I use, or it will use me.
So, if I am not my mind, then who am I?
Finally my painting emerged, I knew this one was for me.
A powerful beautiful black leopard is laying ensconced in Nature, protected, safe and capable. She is on a plateau with a higher perspective of the landscape and beside her is a river representing the energy flow of life. She is in a place of peace and power, a place I wanted to know better.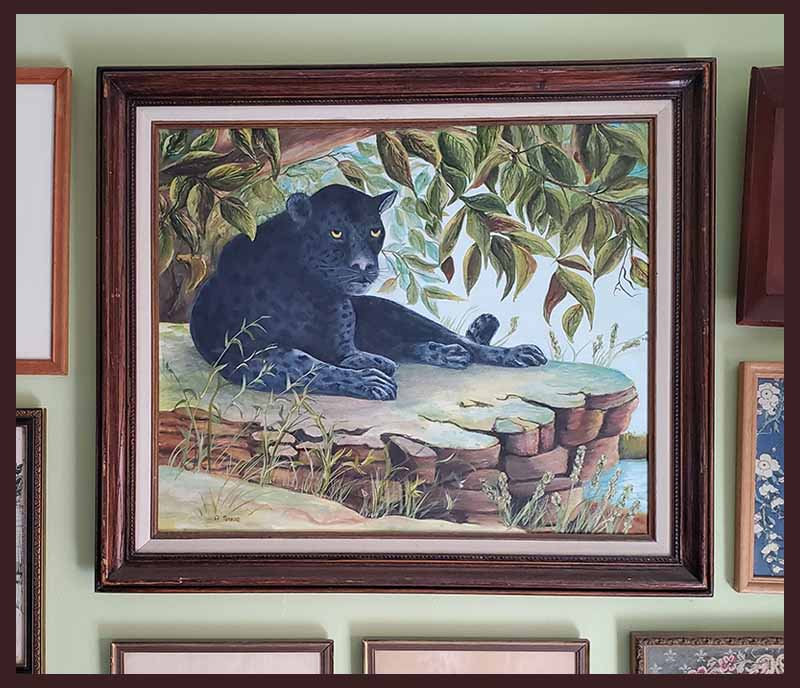 I call this painting "The Watcher".
Watching my thoughts, feelings of sadness and loss created a space between me and the those feeling and in that space was relief, which enabled me to endure and process with greater ease. I was not immune to the pain but it flowed.
This idea was encapsulated in this painting. This is the power of art, to tell a single story, to spark an emotion and to communicate a complex idea in an image.This painting is in my meditation area as a reminder to observe my thoughts, a practice that has become a personal discipline.
How are you navigating this time of global transformation? We are in our space so much more now! Do you have an image, a song, a poem or a practice that supports you?
You can always be in Nature. She is broadcasting constantly how to navigate our life on planet Earth. Connect with Her so you can feel calm, supported, and rejuvenated by her infinite beauty.
I invite you also, to explore my website. My intention is that my artwork can serve as a reminder that we are more than our bodies and mind and we are intrinsically beautiful, powerful and connected to Nature and each other.